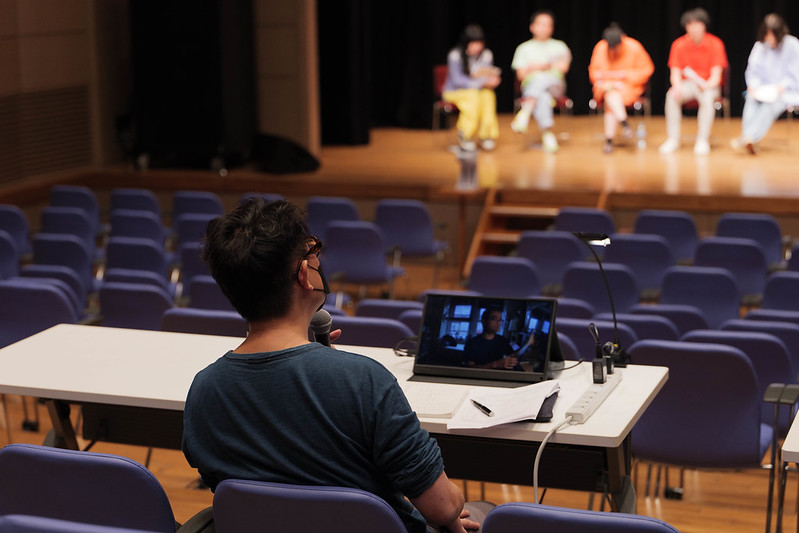 Work-In-Progress for Music Theatre Production chelfitsch & Dai Fujikura with Klangforum Wien
Price
Free
Watch
The Japan Foundation / STAGE BEYOND BORDERS –Selection of Japanese Performances–
Work introduction
Contemporary Theatre x Contemporary Music = New "Music Theater Production"
How is new "Music Theater Production" born?
This work rests on collaboration between chelfitsch / Toshiki Okada and Dai Fujikura. Okada has attracted great attention inside and outside Japan as one of the leading theatrical companies of the present age, and taken up the challenge of "music theatre" in various forms so far. Fujikura is a world-class composer who won the highest accolades also for his operas. These leading figures in the fields of contemporary theatre and contemporary music are joining hands to create this work, which will debut at Wiener Festwochen in May, 2023. It will be molded into a new type of "music theatre" based on a completely new relationship and interaction between speech and music. The actors will perform with the music by a technique other than singing, and the music will be a presence detached from expression of sentiments and feelings.
This performance of a work in progress held in November 2021 was present the process of examining and sharing methodology through the staging of a certain scene, and building a foundation for creation by drawing on the results.
Screening time|70min
Language|Japanese
Accessibility of this work|Audio guide(Japanese)、Original(with English,French,German,Japanese subtitles)
Credit
Playwright / Director: Toshiki Okada
Composer: Dai Fujikura
Cast: Izumi Aoyagi, Chieko Asakura (absent in work-in-progress), Wataru Omura, Mariko Kawasaki, Ayana Shiibashi, Makoto Yazawa
Music: Klangforum Wien (Video appearance) /Bernhard Zachhuber(Clarinet)Annette Bik, Gunde Jäch-Micko(Violin)Dimitrios Polisoidis(Viola)Benedikt Leitner(Cello)
Makoto Yoshida (Clarinet), Ensemble NOMADO / Wakako Hanada, Shizuka Kawaguchi (Violin) Fumiko Kai (Viola) Yui Hosoi (Cello)
Dramaturge: Masahiko Yokobori
Stage Manager: Daijiro Kawakami
Sound Director: Aki Shiraishi(ISHIMARU-GUMI)
Sound Designer: Nagie
Lighting Director: Masayoshi Takada (RYU)
Video Director: Shimpei Yamada (AOZORA)
Sound Operator: Takayuki Katayama, Shuji Sakai, Keiichi Sawaguchi, Subaru Tanaka
Lighting Operator: Megumi Yamashita, Yukio Yoshida (RYU)
Video Director Assistant: Shiori Saito (AOZORA)
Shooting Director / Editor: Ryohei Tomita
Shooting: Mikihiro Endo, Woomin HYUN, Masanobu Nishino
Photography: Kazuya Kato
Publicity Design: Ryuhei Otake
SNS Publicity: Junko Miyazaki
Publicity Writing: Kenta Yamazaki
Producer: Tamiko Ouki, Megumi Mizuno
Production Manager: Nanami Endo, Yuina Baba
Project Manager: Yuri Saito, Mizuki Tazawa
Production Assistant: Ema Murakami
(precog co., LTD.)
Presented by The Japan Foundation
Planning and produced by chelfitsch and precog co., LTD.
In co-operation with: OFFICE threeI's, KAJIMOTO, CUBE Inc., nakagoo, Steep Slope Studio, YAMABUKI FACTORY
(*World premiere will be performed in 2023 commissioned by Wiener Festwochen.)
Gallery
Related artists