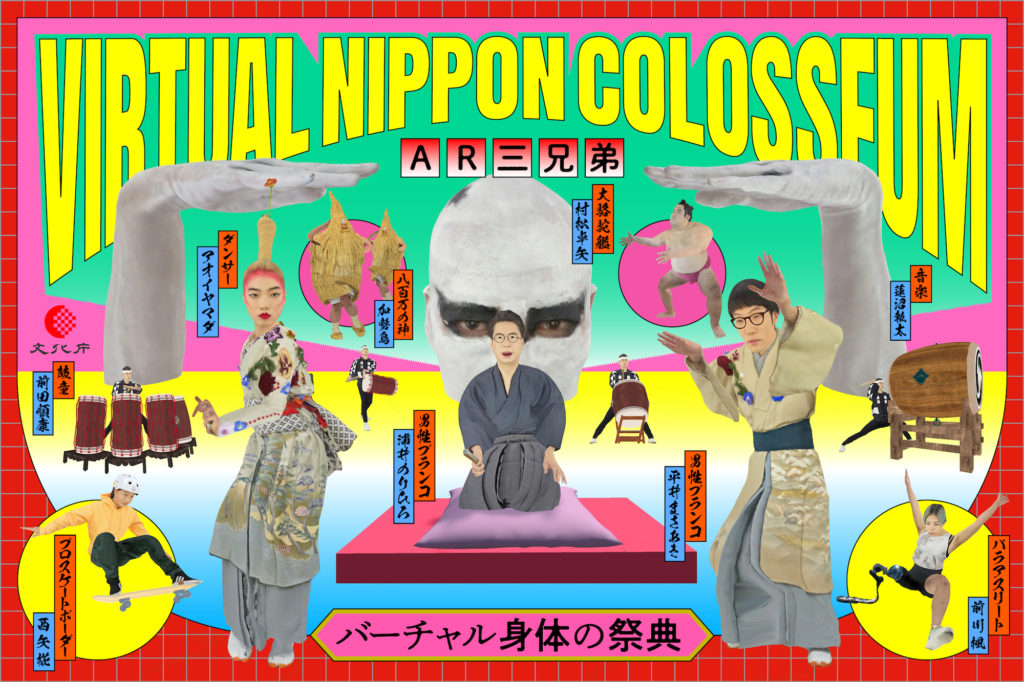 Virtual Body Festival / VIRTUAL NIPPON COLOSSEUM
Price
Free
Watch
Work introduction
This is a digital performance video work by Tom Kawada (AR 3 bros.) that brings to the world the Japanese body with experience in it for the future. The world will emerge through the use of AR technology.
This video work brings together entertainment, art, and sports on one track. A butoh dancer, an up-and-coming dancer, a para-athlete with a prosthetic leg, a teenage professional skateboarder, a strange Japanese festival, and the rhythm of Japanese drums appear one after another to the accompaniment of rakugo (comic storytelling), played on a special app that utilizes AR technology to record the stage as it rises up before our eyes.
This project is also an archival practice that records and remembers culture from the perspective of human body data, and an attempt to explore the possibilities of new art and performance created by technologies such as 3D data and motion capture.
Screening time|7min30sec
Language|Japanese
Accessibility of this work|Sign language + Barrier-free Japanese subtitles,English subtitles,Original
Credit
General direction: Tom Kawada
Development: AR 3 bros.
Performer: Aoi Yamada / Kasedori / Dansei Blanco / Kaede Maegawa / Masayasu Maeda (Kodo) / Momiji Nishiya / Takuya Muramatsu (Dairakudakan)
Music: Shuta Hasunuma
Script: Sohei Wakusaka / Tom Kawada (Original Story)
Rakugo Technical Supervisor / Costume Designer: Dankichi Tachikawa
Costume Designer: Kumiko Iijima
Make-up: Noboru Tomizawa
Drone photography: Hajime Kuboki / Tadayuki Iwaki
Design: Taeko Isu
Production: TASKO inc.
Barrier-free subtitles: Palabra Inc.
Barrier-free coordination: THEATRE for ALL
Production desk: precog
Producer: Kaoru Kanamori (precog)
Commissioned by Agency for Cultural Affairs "FY2021 Strategic Art and Culture Creation Promotion Project
Organizer: Agency for Cultural Affairs, precog Inc.
Gallery
Related space