Invitational work, production, and publicity for a theatrical work performed by an overseas company at Tokyo Festival 2019
"History of Violence" by Schaubühne Berlin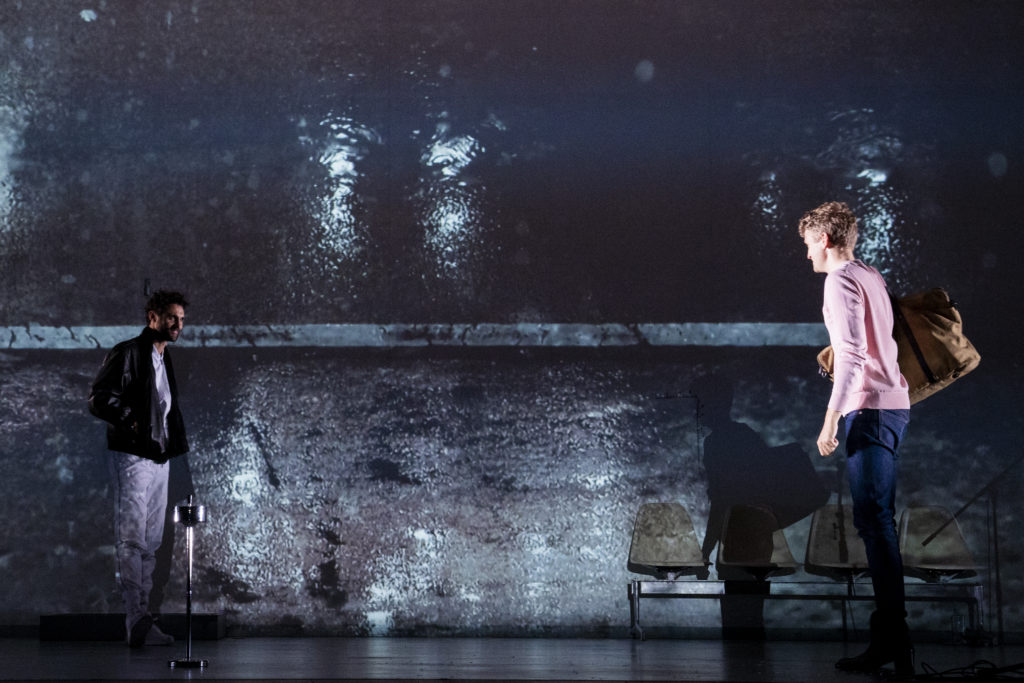 CATEGORY

type of event

|Festivals

type of precog business

|Event production, International projects, Publicity & PR

field of expression

|Theater

year of holding

|2019
Outline of projects
A theatrical piece by Schaübuhne Berlin, the renowned German theater based in Berlin. It is an adaptation of an autobiographical novel of the same title by the French author Édouard Louis. It sheds light on the pattern of violence that is tolerated, ignored, and reproduced in society, with a focus on identity as a sexual minority.
Date: 24th Oct. – 26th Oct 2019
Venue: Tokyo Metropolitan Theatre, Playhouse
Gallery
Credit
Original Novel: Édouard Louis
in a version by Thomas Ostermeier, Florian Borchmeyer and Édouard Louis
Direction: Thomas Ostermeier
German Translation: Hinrich Schmidt-Henkel
Performers: Christoph Gawenda, Laurenz Laufenberg, Renato Schuch, Alina Stiegler
Musician: Thomas Witte
Collaboration Direction: David Stöhr
Set and Costume Design: Nina Wetzel
Music: Nils Ostendorf
Video: Sébastien Dupouey
Dramaturgy: Florian Borchmeyer
Lighting Design: Michael Wetzel
Collaboration Choreography: Johanna Lemke
A production by Schaubühne Berlin
Coproduction with Théâtre de la Ville Paris, Théâtre National Wallonie-Bruxelles and St. Ann's Warehouse Brooklyn.
Premiered on June 2018
Tokyo Metropolitan Theatre
Technical Director: Hisayoshi Shiraga
Stage Technicians: Saori Okuno, Takehiko Watanabe, Wataru Sasaki, Hidenori Okawa
Lighting Technicians: Takenori Inoue, Tatsuro Ando, Hideki Kawamorita, Akihiko Sekino
Sound Technicians: Kouichi lshimaru, Kiyoshi Hiramoto, Asaki Nojima
Production Management: Chieko Tsuruoka, Kazuhiro Tateishi, Naomi Yoshida, Nanami Hashimoto
Attacé de presse: Keizo Maeda
Ticket Administration: Yuki Inoue
Production Management and Public Relations: precog co., LTD.
Akane Nakamura (Project Director)
Kumi Hiraoka (Senior Producer)
Yuka Morita (Chief Administrator)
Megumi Mizuno (Production Manager)
Natsumi Kato (Produce Desk)
Shinko Suzuki (Editing)
Public Relations Products Design: okamoto tsuyoshi +
Public Relations Contents Editing: Kowloon Joe
Public Relations Products Management: Yoshimi Irie
Trailer Editing: Chiaki Kato
Trailer Music: Masamitsu Araki
Japanese Translation for Pressmaterial: Akiko Okamoto
Presented by Tokyo Festival Executive Committee [Toshima City, Toshima Mirai Cultural Foundation, Festival/Tokyo Executive Committee, Tokyo Metropolitan Foundation for History and Culture(Tokyo Metropolitan Theatre & Arts Council Tokyo)]
Supported by Embassy of Federal Republic of Germany, Tokyo Goethe-Institut Tokyo and Embassy of France in Japan / Institut français du Japon
Supported by the Agency for Cultural Affairs, Government of Japan in the fiscal 2019.
Tokyo Festival 2019 is held in corporation with Culture City of East Asia 2019 Toshima.