Planning & operation of a project to bring viewing environments & experience to welfare facilities nationwide
Theatre-creating LAB 2021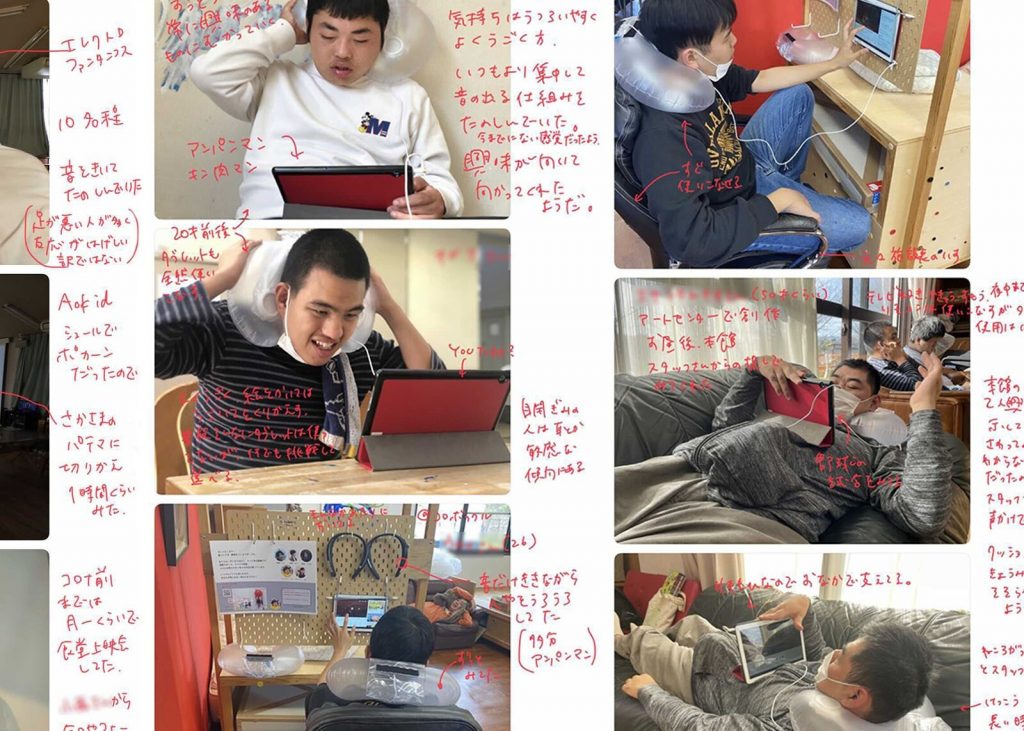 CATEGORY

type of event

|Workshops, Participation-oriented

type of precog business

|Barrier-free arrangements

field of expression

|Video

year of holding

|2021
Outline of projects
We at precog run THEATRE for ALL, a barrier-free video distribution service. In connection with this service, we have created THEATRE for ALL LAB, which is devoted to thought on culture & art and their uptake in welfare and society, through research, interviews, absorption of viewpoints, and analysis.
One of the activities of THEATRE for ALL LAB is Theatre-creating LAB, a design research project that ponders advisable approaches to appreciation of works and the relationship between art and life. Its research proceeds through the preparation of environments for viewing video works at welfare facilities for disabled persons, who may find it hard to go to theaters.
In 2021, the architect Riku Yamakawa served as the director of Theatre-creating LAB, whose activities centered on repeated investigations, mainly from the perspective of scenography. These activities were carried out with Tanpopo-No-Ye, a welfare facility in Nara Prefecture, as the partner, and the architect Rui Itasaka, scenographer Mizuho Watanabe, and artist/musician Tetsu Umehara as guest creators.
Date: February 2021 – March 2022
Outline of the activities
This project was devoted to exploration, with creators, of approaches to environments for viewing video works while delivering project packages to welfare facilities nationwide. These packages consisted of audio & screening equipment and accessories, ideas for making full use of them, and a sheet for providing feedback on feelings and thoughts about this use.
We launched activities with the cooperation of Tanpopo-No-Ye in Nara Prefecture in February 2021, and did crowdfunding to continue the trials with more facilities over the months March – May in the same year.
Based on the support received from the above activities, we subsequently conducted trials with a total of four groups over the months July 2021 – February 2022: Life Care Support & Creative Room NUCA (Okayama Prefecture), the social welfare organization Aiseikai (Tokyo), atelier yamanami (Shiga Prefecture), and the social welfare corporation Asaka Aiikuen (Fukushima Prefecture). We engaged in an exchange of opinion and discussions with the staff of the welfare facilities, and contemplated approaches to viewing environments matching the characteristics of the space in each facility and the facility users. We compiled descriptions of the trials and the insights gained from them into a report that was made available to the public.
Going forward, we intend to continue with activities in a trial-and-error process aimed at having more people share and experience the specific, individualistic communication between people and between people and works.
*16-26 February 2021
Tanpopo-No-Ye Art Center HANA (Nara Prefecture)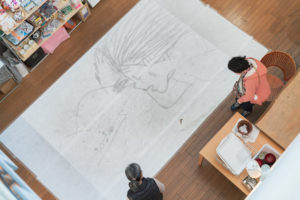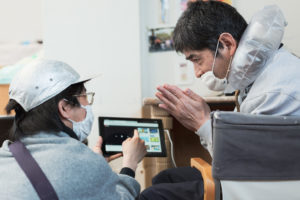 *10-19 August 2021
LIFE CARE SUPPORT & CREATIVE ROOM NUCA (Okayama Prefecture)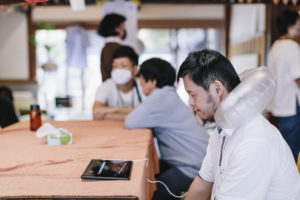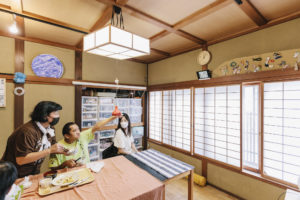 *9-19 November 2021
Social Welfare Organization Aiseikai(Tokyo)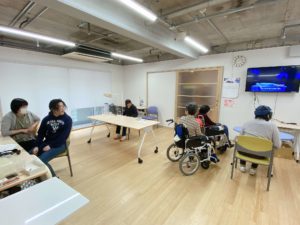 *11-25 November 2021
atelier yamanami (Shiga Prefecture)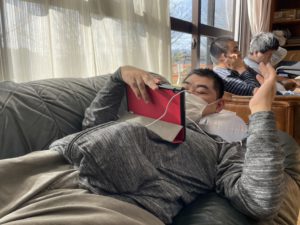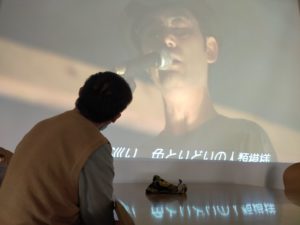 *14 January – 17 February 2022
Social Welfare Corporation Asaka Aiikuen, Hajimari Art Center, Multifunctional Support Center VIVO (Fukushima Prefecture)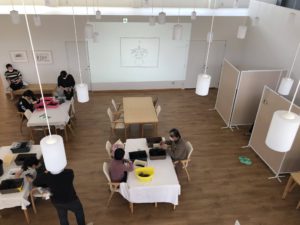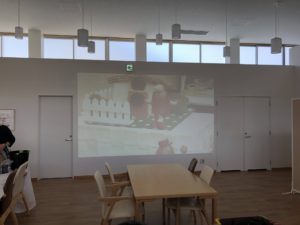 Activity Report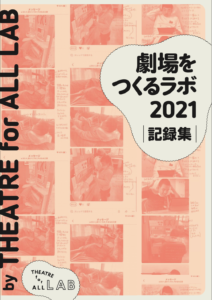 Theatre-creating LAB 2021 Collection of Records, First Half (PDF)
Theatre-creating LAB 2021 Collection of Records, Second Half (PDF)
Gallery
Advertising materials
THEATRE for ALL「Theatre-creating LAB」Introductory video
Credit
Director: Riku Yamakawa (Architect, DRIFTERS INTERNATIONAL Associates)
Creator Team: Rui Itasaka, Tetsu Umehara, Mizuho Watanabe
Partners in implementation of the trials:
Tanpopo-No-Ye: Hiromichi Sato, Kaori Nakajima, Takuya Oi
LIFE CARE SUPPORT & CREATIVE ROOM NUCA: Kazuomi Tanjo, Yoji Yuzuki
Social Welfare Organization Aiseikai: Makoto Aoki (Maple Garden fac), Asuka Tamamura
atelier yamanami: Yasufumi Konishi, Tomoko Izuriha, Masahiro izuriha
Social Welfare Corporation Asaka Aiikuen: Tatsuya Kobayashi (Hajimari Art Center), Hiromi Orikasa, Masatoshi Sato (Multifunctional Support Center VIVO)
Editing of the report: Kohei Haruguchi
Design of the report: Takuya Tsunashima
Planning & production: precog co., LTD (the THEATRE for ALL secretariat)
Producer: Kao Kanamori
Project Management: Mai Hyodo, Mei Hayashi, Yuka Kuroki
Cooperation: MotionGallery
Sponsor: DRIFTERS INTERNATIONAL
*The names of the people who supported our crowdfunding campaign are noted on
the THEATRE for ALL website. Thank you for your support.