2021.01.04
Happy New Year 2021 from precog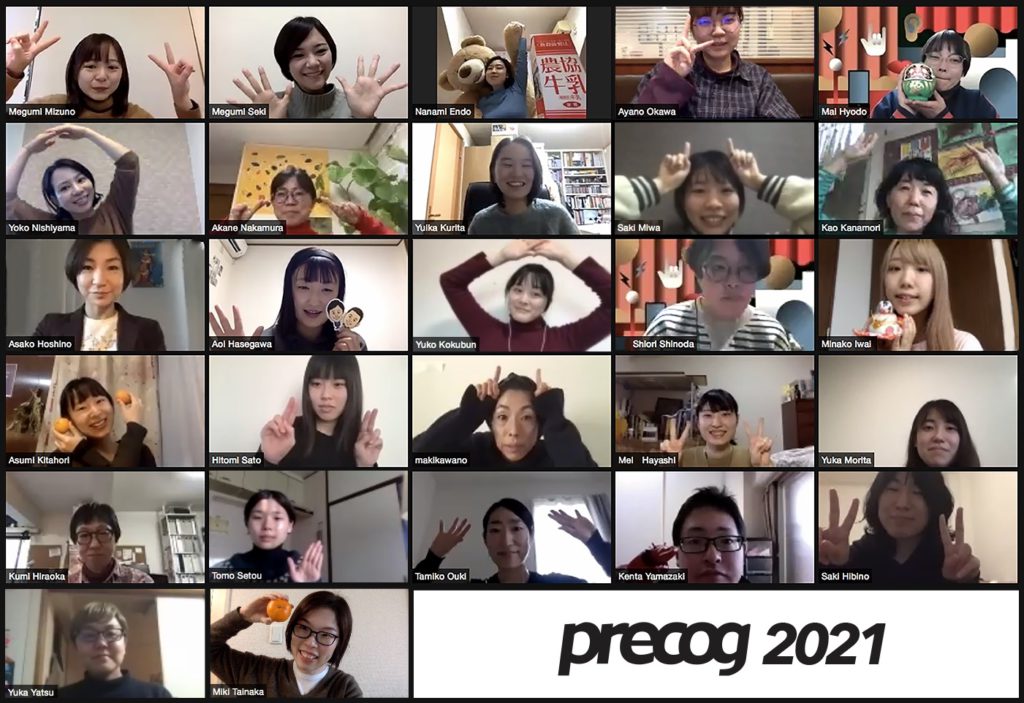 The whole world was visited by an unprecedented disaster in 2020. It was a year of completely unforeseen difficulties for precog, and forced us to postpone and cancel projects of our conception and production. But even under such circumstances, we broadened the stage of our activities to online space, thanks to the support of all concerned and our own challenging spirit.
 
chelfitsch & Teppei Kaneuji began online distribution of Eraser Fields, which unfolded in everyday space. This project took up the challenge of unique expression while carrying through with the concept and innovative character at the core of the Eraser series. A Tokyo performance of Eraser Mountain is scheduled for February of this year. This is going to be accompanied by plenty of new measures, such as live online distribution from the theater with Japanese subtitles, and rental of extra voice guides.
 
Yudai Kamisato offered Khao Khao Club Online, his new opus created on the basis of research in the Ryukyus and northern Thailand, for a limited term. He distributed the work online as a series piece with changes in the audio, text, and video. The distribution spawned interchange with Germany and other Asian countries.
 
After being held in Jogjakarta, Kuala Lumpur, and Roxas City, which are all Asian cities with a distinctive local character, the Jejak-Tabi Exchange program was also held online. In light of the suspension of international exchange because of the pandemic, arrangements were made for discussion through creation on themes such as postwar society, politics, Covid, and local culture with Asian artists, curators, producers, and journalists.
 
OUTRAP (A scenario that is inevitably musical, narrative, and yet incandescently robust), by chelfitsch & Otagiri & Kouki Tange, is currently available at Peatix. Six years have already passed since chelfitsch and Otagiri collaborated in POSTRAP at the Museum of Contemporary Art Tokyo. This time, they were joined by the video artist Tange and put together an 18-minute video that is like a short film. Make sure to see it!
 
Besides use as space for practice and workshops, we have started to make Yamabuki Factory available as a studio for stream distribution and space for coordination of distribution plans. It was also the venue of a talk event distributed online that was led by the Asian Cultural Council. In it, precog Representative Director Akane Nakamura and other stellar guests exchanged opinions on activities of creative expression during the pandemic. Don't miss it!
 
Conneling Study, a study group for the development of learning methods taking the performing arts as educational material, is likewise going ahead with its research and development activities for online workshops. Please look forward to the new video work by performer Aokid, which was created through that activity.
 
This coming February, we are going to launch THEATRE for ALL, an online quasi-theater with a focus on accessibility. It will distribute streams of theater, dance, media arts, etc. as well as learning programs directed to people who have thus far found it hard to access theaters for various reasons. The distribution will be barrier-free and multilingual. It will be a virtual theater linking anyone, at any time and from any place. We hope you will look forward to THEATRE for ALL!
 
At present, precog has a large staff numbering 30. We have made the switch to remote work and are pooling our diverse wisdom with the participation of staff members in the Kansai region and overseas.
 
We are preparing environments for smooth access to both real theaters and online viewing, in order to give more and more people better access to the arts through various methods. We are striving for an even stronger ability to deliver the interest and entertainment of performing arts to all.
 
For the latest news and information about our work to date, please check our website, which we renewed last year! We are also showing streams of precog works @ONLINE for your viewing pleasure during the holiday season.
 
We are counting on your support again this year!
From all of us at precog co., LTD.
 
---
 
Schedule 2021
 
precog
◉ Now Streaming 〜 Sunday, January 31
chelfitsch & Otagiri & Kouki Tange "OUTRAP (A scenario that is inevitably musical, narrative, and yet incandescently robust)" (Online Streaming)
◉ January 1 〜
Aokid, New video work (Online Streaming)
◉ Thursday, February 11 〜 Sunday, February 14
chelfitsch & Teppei Kaneuji "Eraser Mountain"
OWLSPOT THEATRE (Tokyo, Japan)
◉ March
Toshiki Okada & Ema Yuasa Work in progress
SAITAMA ARTS THEATER (Saitama, Japan)
◉ Friday, March 26 〜 Sunday, March 28
Mammalian DIving Refrex / Darren O'Donnell "All The Sex I've Ever Had"
KYOTO ART CENTER (Kyoto, Japan), KYOTO EXPERIMENT 2021 SPRING
◉ Thursday, April 8 〜 Sunday, April 11
True Colors DIALOGUE Mammalian DIving Refrex / Darren O'Donnell "All The Sex I've Ever Had"
Spiral Hall (Tokyo, Japan), True Colors Festival
◉ May
chelfitsch "EIZO-Theater" (Aichi, Japan)
◉ August
TRIAD DANCE PROJECT "Genealogy of Dance" Tryout Performance
Dance Base Yokohama (Kanagawa, Japan)
◉ September
Jejak-旅 Tabi Exchange: Wandering Asian Contemporary Performance 2020 NAHA *TBD
◉ October
TRIAD DANCE PROJECT "Genealogy of Dance"
Aichi Prefectural Art Theater (Aichi, Japan)
◉ October
Midori Kurata & Norimizu Ameya, New work *TBD
 
True Colors FASHION (True Colors Festival)
◉ February 〜 coconogacco × Hiroki Kawai Documentary Film (Online Streaming)
◉ February Symposium (Online Streaming)
◉ May Fashion Show (Online Streaming)
 
*****
THEATRE for ALL
◉ Friday, February 5
*We are implementing the projects for this fiscal year as a type of barrier-free motion-video distribution under the official provisions for subsidization of projects to strengthen the earning power of cultural and artistic activities, as part of the fiscal 2020 Agency for Cultural Affairs program for strategic promotion of artistic and cultural creation.
 
*****
Space
YAMABUKI FACTORY
Rental rehearsal studio in Tokyo.
You can do rehearsal, lesson, party, motion video distribution and so on!
We are looking forward to see you.
<Conneling Study>
◉ January chelfitsch Workshop (Online Streaming)
◉ March Aokid Workshop (Online Streaming)
PUNTO PRECOG
Rental free space in Beppu(Oita). It is a small space that you can challenge a new shop! Would you like to try it?
 
---
 
precog Staff
 
Executive Producer : Akane Nakamura
Executive Officer/Publicity & Branding Director : Kao Kanamori
Senior Producer : Kumi Hiraoka
Artist Division
Chief Producer : Tamiko Ouki
Producer : Megumi Mizuno
Project Manager : Hitomi Sato
Project Assistant : Nanami Endo, Ayano Okawa, Tomo Setou, Chen Ay-wen
Barrier-free communication Division
Chief Producer : Mai Hyodo
Producer : Shiori Shinoda
Ticketing Coordinator/Project Manager : Yuka Yatsu
Project Manager : Yuika Kurita, Yuko Kokubun, Megumi Seki, Youko Nishiyama, Saki Hibino
Publicity & Marketing : Asumi Kitahori, Miki Tainaka
Project Assistant : Noriko Oguro, Aoi Hasegawam, Mei Hayashi, Moe Minoura
Administration Division
Chief Administrator : Yuka Morita
Administrative desk : Saki Miwa
Desk Assistant : Minako Iwai, Junko Kanai, Maki Kawano, Hiroko Saito