2023.01.01
Happy New Year 2023 from precog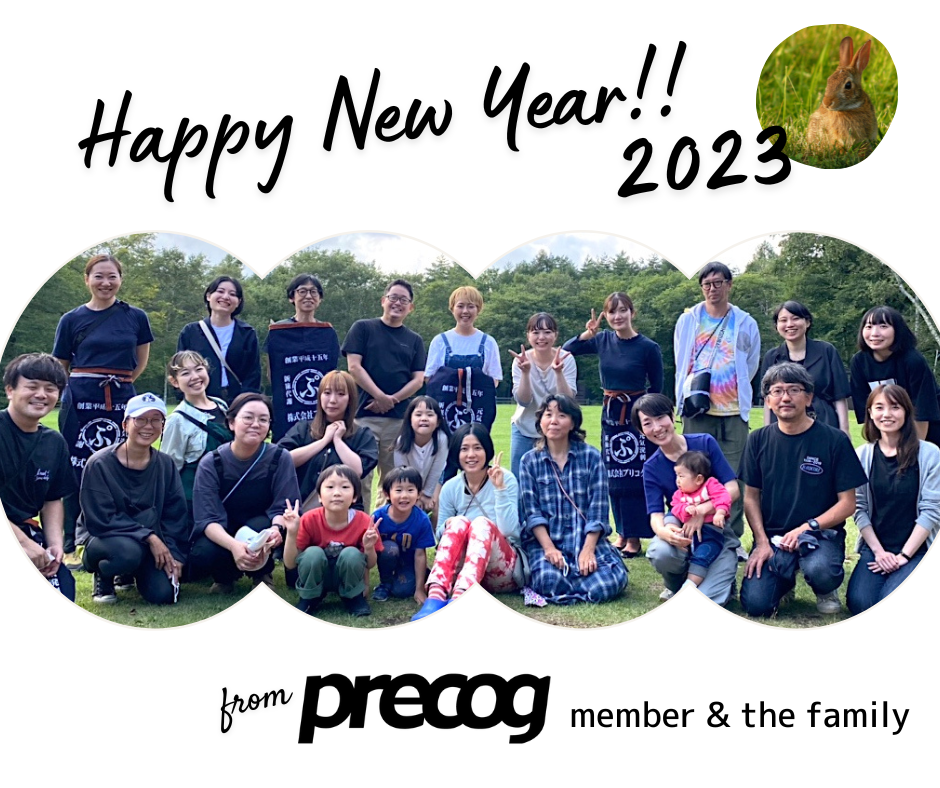 Thank you for your patronage of precog last year.
We hope the new year will be a wonderful one for you.
Our best wishes for your health and happiness in 2023!
---
In 2022, precog's Representative Director Akane Nakamura received the "new face" award (arts promotion category) in the FY2021 (72nd) Agency for Cultural Affairs Art Encouragement and Minister of Education, Culture, Sports, Science and Technology Awards. Precog handled the management chores for Toshiki Okada's Unfulfilled Ghost and Monster – ZAHA / TSURUGA and the Ikuma Dan Opera (new direction) YUZURU, which won an award for excellent direction in the 29th Yomiuri Theater Awards Selection. Meanwhile, Unfulfilled Ghost and Monster – ZAHA / TSURUGA won the 25th Tsuruya Namboku Memorial Drama Award, and the short-story collection Broccoli Revolution, the 35th Mishima Yukio Prize. The new work Doughnuts, which premiered at the Thalia Theater in Hamburg, was selected for the Berliner Festspiele Theatertreffen. In short, the year was filled with joyous developments.
Thanks to your assistance, last year was again a highly eventful one. The following text takes a look back at the highlights of 2022 and presents information on precog activities in 2023.
■ Accelerated approaches to art and welfare!
THEATRE for ALL, the online theater operated by precog, distributes many works that can be enjoyed with varied assurance of information accessibility, by means including multilingual subtitles, sign language, and audio guides. In December and January we began continuous distribution in tie-up with EPAD, which is promoting the creation of digital archives for performing arts! You can enjoy barrier-free videos of works by Toshiki Okada & Hana Sakai, KOMATSUZA, MUM & GYPSY, mamagoto, and OLTA. Make sure to access!
In the All-in Film Festival 2022, we held many online events with various artists that attracted plenty of participation and viewing. In the fall, we held an inclusive showing of films in the city of Nasu, Tochigi Prefecture. Works including Bro – Are MDA Patients in Despair? Abused Sister Asks – (Aiko Komeda) and Transform! (directed by Tomoya Ishida) are still available for viewing online. The All-in Survey Team is now taking action for another showing in Karuizawa, Nagano Prefecture. We hope you will follow the future course of the festival.
One of our approaches under THEATRE for ALL LAB is Theatre-creating LAB, a project to deliver art appreciation and creation to welfare facilities. In it, the musician Shuta Hasunuma and the video artist Yoriko Mizushiri created PAPER? (Organized by Drifters International), a short animated film based on their experience in a workshop with users of welfare facilities. This work will be shown around the country again in 2023!
On top of this, we are getting increasing opportunities for commissions from public agencies and various groups.
For the second consecutive year, we were commissioned by the Ministry of Health, Labour and Welfare to run the national partnership secretariat in its project for the diffusion of artistic and cultural activities among the disabled. In this capacity, we supported the artistic and cultural activities of disabled persons nationwide by activities such as holding national partnership conferences, preparing reports on activities, renewing and operating websites, and striving to heighten awareness of activities through publicity about them.
In accordance with a commission from the Ministry for Cultural Affairs, in February 2023, we are going to hold a seminar on the theme of contracts for freelance artists and staff in the genres of music, film/video, art, and performing arts. We also plan to distribute archive footage (with sign language and Japanese subtitles) afterward.
■ Theater lovers can't take their eyes off chelfitsch/Toshiki Okada!
This last year was a full one for EIZO-Theater, a new type of theater that is an attempt to transform display space into theatrical space by the effects that projected images have on human sensibility, developed by chelfitsch/Okada with Shimpei Yamada, a stage video designer.
In March, the team created and presented KAISOU: Layer, Class or Hierarchy at Toyohashi Arts Theatre PLAT under its program for creation of theater with citizens. This work was made with citizens chosen through auditions, and applied the EIZO-Theatre technique. In October, there was another performance of it at the Tokyo Festival.With NEW-ILLUSION, an EIZO-Theater work, they showed a new direction in this genre with another attempt honoring the conventional theater format of staging and audience seating. This work toured the Republic of Korea after its performances in Tokyo, and is scheduled to be staged in Singapore in 2023.
Two new chelfitsch works are going to debut in 2023.
Okada is taking up the challenge of creating a new kind of music theater together with the contemporary music composer Dai Fujikura and the chelfitsch actors. This new work is going to have its world debut at Wiener Festwochen in May. It will feature a completely new relationship between script and music, with the cast and music acting on each other, the former by a technique differing from song, and the latter, through a mode differing from the description of scenes and sentiments. We are now distributing footage of a work-in-progress performance with an audio guide (the first time for a chelfitsch work) through THEATRE for ALL.
chelfitsch has held several theater workshops in order to create opportunities for actors whose first language is not Japanese to participate in Japanese-language plays since 2021. As the fruit of these activities, the company is creating an SF work together with performers selected by audition whose first language is not Japanese, and planning for its premiere performance in August. Please don't miss it!
Okada also was involved with two dance works that likewise attracted a lot of attention. These were I am a Battlefield of Narratives, for which he did the text, direction, and co-choreography, and The Dying Swan and Its Cause of Death, which he directed (this is now available for viewing on THEATRE for ALL with barrier-free subtitles and audio guides). We strongly encourage you to see them. Okada is also handling the script and direction chores for Sakurahime Azuma Bunsho, which is going to be performed by Kinoshita-Kabuki early in 2023. Don't miss this performance either!
Okada is energetically involved in the creation of works outside Japan as well. His Doughnuts was staged at the Thalia Theater in Hamburg, Germany, and was one of the ten works, out of the 400 staged in German-speaking countries, to be selected for the Theatertreffen theater festival in Berlin. After this came HVALEN I ROMMET (Whale in the Room), a new work staged with local actors at the national theater in Oslo, Norway. Okada is planning to create more new works in 2023, so please watch for updates!
■ Planning & production by precog!
The Virtual Body Festival VIRTUAL NIPPON COLOSSEUM is under the general direction of Tom Kawada (AR 3 Bros.), a project presenting digital performances showing "Japanese bodies" to the rest of the world and archiving body data. It presents new possibilities for the interplay of technology and art. For 2023, the project is going to add rappers and musicians, record weird festivals and traditional entertainment from all parts of Japan, and present shows with a picture-book function providing an overview of all data to that point.
Between the months March – May 2023, we are going to launch Translation for ALL, which will offer innovative performances and various online events revolving around media art and accessibility. Please watch for it!
Now Bathing, Zero-Minute Walk from Maison de Merci, Kofu Sumiyoshi, Adachi Ward, Mie Prefecture, a joint project by the two theatrical directors Midori Kurata and Norimizu Ameya, came to the end of its successful run three years after the first encounter. The video work Five-Minute Walk from YouTube Hot Springs Station, Higashi Kujo, Shinjuku-ku, Mie Prefecture is currently available for viewing on STAGE BEYOND BORDERS – Selection of Japanese Performances, an online distribution project of the Japan Foundation.
Titled fragments of Tuah, the latest video essay by Mark Teh about the legendary Malaysian warrior Hang Tuah (organized by P, a general incorporated association), is now available for viewing on THEATRE for ALL.
■ A variety of workshops!
Throughout the year, precog held numerous workshops in collaboration with diverse artists. We also began receiving related commissions from museums and cultural centers on a steady basis.
These workshops included Kageoka no Ie ni Natte Miru ("Become a House in Kageoka") at KAGEOKA NO IE by the choreographer and dancer Megumi Kamimura, Oto -> Moji -> Oto ("Sound -> Text -> Sound") at KAGEOKA NO IE by the musician and artist Shuta Hasunuma; "Momotaro no Tsuzuki" no Tsuzuki wo Tsukutte Miyou! ("Let's Try and Make a Sequel to 'Momotaro Sequel'!") at Daikanyama Teens Creative by the theater collective Hanchu Yuei; "Oddro! 10, 1,000, ⭕️" at the Kariya Cultural Center and Shibuya-hen at Kazoku no Atelier by scale laboratory, and Me to Te de Oshaberi Imajineta ni Narou ("Become an Imaginator Talking with the Eyes and Hands") at KAGEOKA NO IE by IGENGOLab. The workshops for children that were held in person after a long interval due to Covid-19 were all attended by many children eager to learn and were roundly applauded.
In the Mori Art Museum community engagement program Art Camp for Under 22, Vol. 8: Connecting Works and People and People, we held the "Workshop to 'Make' Art Appreciation with a Range of People." In so doing, we created an occasion for thinking about highly creative barrier-free arrangements in the area of art appreciation.
We also were involved in the preparation of many local workshops, exhibitions, and film screenings. These included Chelfitsch to Issho ni Hantomei ni Natte Miyou! ("Get Half-Transparent with chelfitsch!") by Drifters International at Hisamatsu Spa, a public bath in the Ikegami district of Tokyo's Ota Ward; a "town visit" and diary-writing workshop with the poet Sayaka Osaki at Honmyoin Temple, and "Ikegami Great Exchange Diary" by Sayaka Osaki and Teppei Kaneuji.
We at precog are going to continue doing our best to deliver cultural activities to more and more people by serving as a bridge between art and culture on the one hand and society and the world at large on the other. In these endeavors, we are counting on your support again in 2023!
---
From the whole staff of precog co., LTD.
We will be doing business as usual beginning on January 6 (Fri.), 2023.
2023 Schedule
◉EPAD partnership project
– Currently being distributed: @EPAD x THEATRE for ALL Special page
◉VIRTUAL NIPPON BODIES 2023 (tentative title), AR3 Bros.
February: @THEATRE for ALL and more
◉ "Contracting Lessons for Free-lance Artists and Staff", a Ministry for Cultural Affairs program for implementation of practical training for artists etc.
February: At the seminar room in the Museum of Contemporary Art Tokyo / Haretara sorani mame maite / Tokyo Metropolitan Theatre Symphony Space / LUMINE0 / 1331 Arts Chiyoda / Loft 9 Shibuya / Online
◉Toshiki Okada, script and direction: Kinoshita-Kabuki – Sakurahime Azuma Bunsho
February – March: At OWLSPOT THEATRE / Main Hall, Toyohashi Arts Theatre PLAT / South Hall, ROHM Theatre Kyoto / Ryutopia, Niigata City Performing Arts Center / Kurume City Plaza
◉Toshiki Okada, script: The Vacuum Cleaner, produced by KAAT Kanagawa Arts Theatre
March: At KAAT Kanagawa Arts Theatre (Middle Studio)
◉THEATRE for ALL Festival TRANSLATION for ALL
March – May: AR3 Bros., Shuta Hasunuma, Tetsu Umehara, IGENGOLab., and others…
◉New work by contact Gonzo x yang02
May: In Tokyo
◉New music theater by chelfitsch & Dai Fujikura
May: At Wiener Festwochen (Vienna, Austria) / KunstFestSpiele Herrenhausen (Hannover, Germany)
October: in Europe
◉chelfitsch EIZO-Theater NEW-ILLUSION
In Singapore
◉chelfitsch project of collaboration with non-native Japanese speakers – theatrical performance
August: In Tokyo
◉FY2022 partnership secretariat for the Ministry of Health, Labour and Welfare project for the diffusion of artistic and cultural activities among the disabled (performing arts field)
Special articles: Fukushi to Ato wo Meguru Toi ("Questions Surrounding Welfare and Art")
– Made available for viewing on the official website as they are published
Operation of distribution platforms and space
We recommend full use of this barrier-free online theater for distribution of performance videos, movies, and information. We help to link all sorts of people with works through videos with audio guides, subtitles (Japanese and English), sign language, etc. We also handle the development of learning programs and coordination of barrier-free video production. We are always looking for new works to distribute. If you have any questions, please don't hesitate to contact us.
Rental rehearsal studio in Tokyo. You can do rehearsal, lesson, party, motion video distribution and so on! We are looking forward to see you.
Rental free space in Beppu(Oita). It is a small space that you can challenge a new shop! Would you like to try it?