Planning and production of the Tokyo performance of an international theatrical collaboration
"Pratthana – A Portrait of Possession" by Uthis Haemamool and Toshiki Okada with Yuya Tsukahara in Tokyo (Organized by The Japan Foundation Asia Center)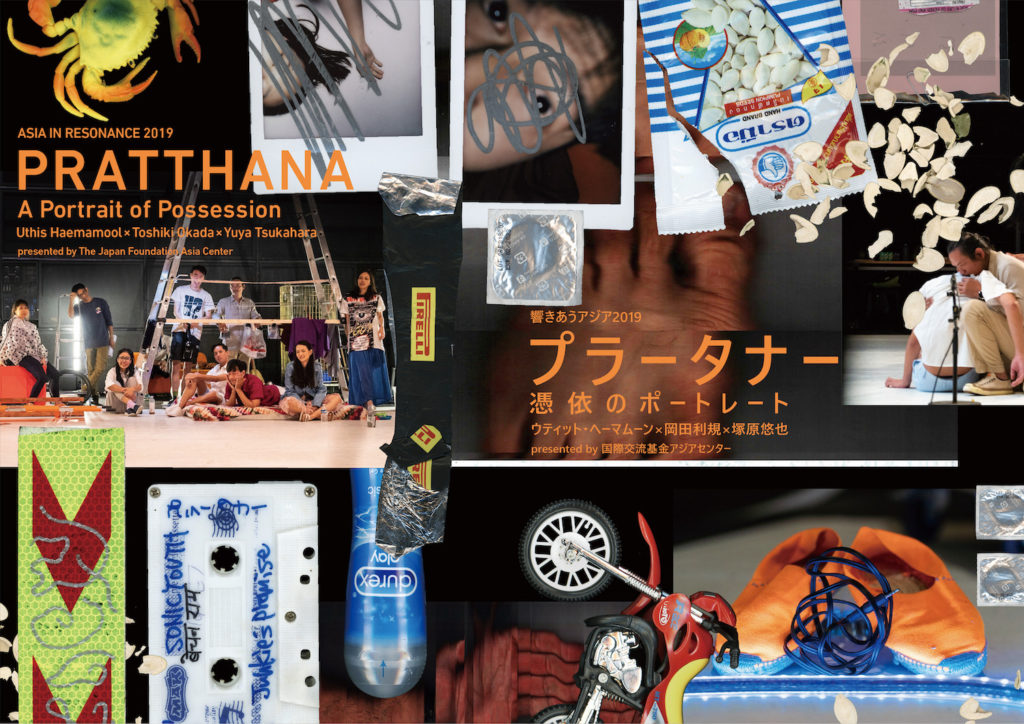 CATEGORY

type of event

|Talk sessions & symposiums, Performances, Workshops

type of precog business

|Event production, International projects, Promotion of education, Human resource development, Publicity & PR

field of expression

|Theater

year of holding

|2019
Outline of projects
A work of international collaboration over a period of more than three years, based on co-production with the Japan Foundation Asia Center. Pratthana – A Portrait of Possession, a novel by Uthis Haemamool, one of the leading-edge authors in contemporary Thai literature, was adapted for the stage under the direction of Toshiki Okada. The scenography was handled by Yuya Tsukahara of contact Gonzo, and the casts were selected through auditions held in Bangkok. Lasting about four hours, this monumental work was put together with the participation of creation members from Thailand, including the assistant director and technical staff.
We at precog coordinated the activities of the creation members from Thailand and Japan, and were in charge of the project planning and production. In addition, we strove to provide new experiences and create audiences by holding events (schools, workshops, and post-performance talk sessions) to deepen understanding of the work, preparing publicity tools, and engaging in other activities.
Date: 27th June – 7th July 2019
Venue: Tokyo Metropolitan Theatre, Theatre East
Official Website:https://www.pratthana.info/
* This work was staged in Tokyo as part of the Asia in Resonance 2019 program, a festival introducing a wide range of cultural exchange projects between Japan and Southeast Asia.
Outline of Works
"Pratthana – A Portrait of Possession" is a theatrical production created through the international collaboration, over a period of more than three years, of the Japan Foundation Asia Center and precog co., LTD.
A winner of the Southeast Asian Write Award and the Seven Book Award, and one of the most energetic novelists active today, Uthis Haemamool is renowned for his brilliant depictions of the nebulous identity and psyche of individuals alive in this Asia of today. He has been given the highest accolades internationally and remains at the forefront of contemporary Thai literature.
Ranking as one of Japan's major playwrights and novelists, Toshiki Okada is active both inside and outside his country and also leads the theatrical company chelfitsch.
These two creators collaborated in the making of "Pratthana – A Portrait of Possession", a theatrical adaptation of Haemamool's novel by Okada.
The protagonist of this work is a single painter who struggles in his pursuit of artistic activities and with the surrounding society while trying to find himself, and goes through a series of encounters and losses. Its vivid descriptions of the inner life and sexual feelings of the various characters have echoes from the flow of history and political turbulence of the society in which they live.
Gallery
Advertising materials
Website

Trailer

Main graphic

Brochure

Promotional flyer
Related artists
Credit
Original novel by Uthis Haemamool
Script / Direction: Toshiki Okada
Scenography / Choreography: Yuya Tsukahara
Assistant director: Wichaya Artamat
Original novel translation / Japanese surtitle: Sho Fukutomi
Cast: Jarunun Phantachat, Kemmachat Sermsukchareonchai, Kwankaew Kongnisai, Pavinee Samakkabutr, Sasapin Siriwanij, Tap-a-nan Tandulyawat, Teerawat Mulvilai, Thanaphon Accawatanyu, Thongchai Pimapunsri, Waywiree Ittianunkul, Witwisit Hiranyawongkul
Costumes: Kyoko Fujitani
Lighting: Pornpan Arayaveerasid
Lighting operator: Laphonphat Doungploy
Lighting coordinator: Asako Miura
Sound: Masamitsu Araki
Sound assistant: Kota Uematsu
Scenography assistant / Video: Takuya Matsumi
Technical director: Kazushi Ota
Script translation: Muthita Panich
Translation cooperation: Patarasorn Koopipat, Matana Jaturasangpairoj
English script translation: Aya Ogawa, Sasapin Siriwanij
English surtitle translation: Aya Ogawa
Surtitle operator: Memee Dantavornjaroen
Interpreter: Patarasorn Koopipat
Executive producer: Akane Nakamura
Production manager: Yoko Kawasaki
Assistant production manager: Natsumi Kato, Takafumi Sakiyama
Production cooperation: Tananop Kanjanawutisit
Ticket: Yuka Yatsu
Supporter: Reine Maruyama
Video recording: Takaki Sudo
Photo: Yurika Kono
PR
Publicity design / Shooting: Takuya Matsumi
Special website: Rui Ishiguro
Trailer video: Isao Kanemaki, Masamitsu Araki
PR planning cooperation: Kao Kanamori, Nana Soeda, AWRD (Loftwork Inc.)
English translation: James Koetting
"Pratthana" theatre guide: Takashi Usui, Yuka Akashi, Kohei Sekigawa, Haruka Fujii, Hajime Kato, Takuya Matsumi, Sho Fukutomi, Moe Fujisue, Akane Nakamura
"Pratthana" school: Takashi Usui, Junko Shimizu, Hajime Kato Management Moe Fujisue, Maho Masuzaki, Satomi Haraguchi
Assistant: Natsumi Kato
PR cooperation: Taisuke Shimanuki
Post design: Yui Yamamoto
Pamphlet design: Haruka Fujii
"Pratthana : A Portrait of Possession" The Official Guide
Author: Uthis Haemamool & Toshiki Okada
Planning / Production: The Japan Foundation Asia Center, precog co.,LTD.
Planning / Direction: Akane Nakamura
Art direction: Takuya Matsumi
Design: Kentaro Nakamura, Kayoko Kobayashi
Writing / Composition: Taisuke Shimanuki
Photo: Takuya Matsumi, Eiki Mori
Translation: Sho Fukutomi, Makiko Yamaguchi, Saya Namikawa, Kanoko Tamura, Patarasorn Koopipat, Yumiko Udo
Edit: Yoko Kawasaki, Shinko Suzuki, Sho Fukutomi, Toshio Wakuta (Hakusuisha)
Map production: MORISON
Printing / Bookbinding: Daishinsha Inc
Publishing: Hakusuisha Publishing Co.,Ltd.
Original novel "Pratthana – A Portrait of Possession"(The original title in Thai: "Rang Khong Pratthana")
Author: Uthis Haemamool
Translation: Sho Fukutomi
Publishing: Kawade Shobo Shinsha Publishers inc.
precog co.,LTD.
CEO / Director: Akane Nakamura
Chief producer: Tamiko Ouki
Senior producer: Kumi Hiraoka
Chief administrator: Mai Hyodo, Yuka Morita
Producer: Megumi Mizuno, Takafumi Sakiyama
Assistant producer: Natsumi Kato
Ticket: Yuka Yatsu
Administration assistant: Minako Iwai, Asumi Kitahori, Sayaka Kimura, Yuika Kurita, Hiroko Saito, Hitomi Sato, Kentaro Takahashi, Monami Takahata, Rin Terada, Saki Miwa, Motonori Watanabe
Tokyo Metropolitan Theatre
Technical director: Hisayoshi Shiraga
Stage technicians: Saori Okuno, Takehiko Watanabe // Wataru Sasaki, Hidenori Okawa
Lighting technicians: Takenori Inoue, Tatsuro Ando // Hideki Kawamorita, Akihiko Sekino
Sound technicians: Kouichi Ishimaru // Kiyoshi Hiramoto, Asaki Nojima
Production management: Kazuhiro Tateishi, Chieko Tsuruoka, Naomi Yoshida, Nanami Hashimoto
Attache de presse: Keizo Maeda
Ticket: Yuki Inoue
Organized by The Japan Foundation Asia Center
Co-sponsored by Tokyo Metropolitan Theatre (Tokyo Metropolitan Foundation for History and Culture)
Planning & Production management: precog co.,LTD.
Produced by The Japan Foundation Asia Center, precog co.,LTD., chelfitsch
Creation support: Arts Council Tokyo (Tokyo Metropolitan Foundation for History and Culture), The Saison Foundation
In cooperation with Sodsai Pantoomkomol Centre for Dramatic Arts, Faculty of Arts, Chulalongkorn University, College of Social Communication Innovation, Srinakharinwirot University, Democrazy Theatre Studio, contact Gonzo, B-Floor Theatre, DuckUnit, FAIFAI, For What Theatre, Splashing Theatre Company, Akiyo Uratani, Hiroko Tasaka, Nana Koetting, P, genroncafé, Kei Uchida, Sayoko Usui, Loftwork Inc., Soundweeds, Yasutaka Kobayakawa, ARTCORE, Koro Suzuki, Yamabuki Factory, Miki Kanai, Chisaki Araragi, Rion Takebayashi