2022.01.01
Happy New Year from precog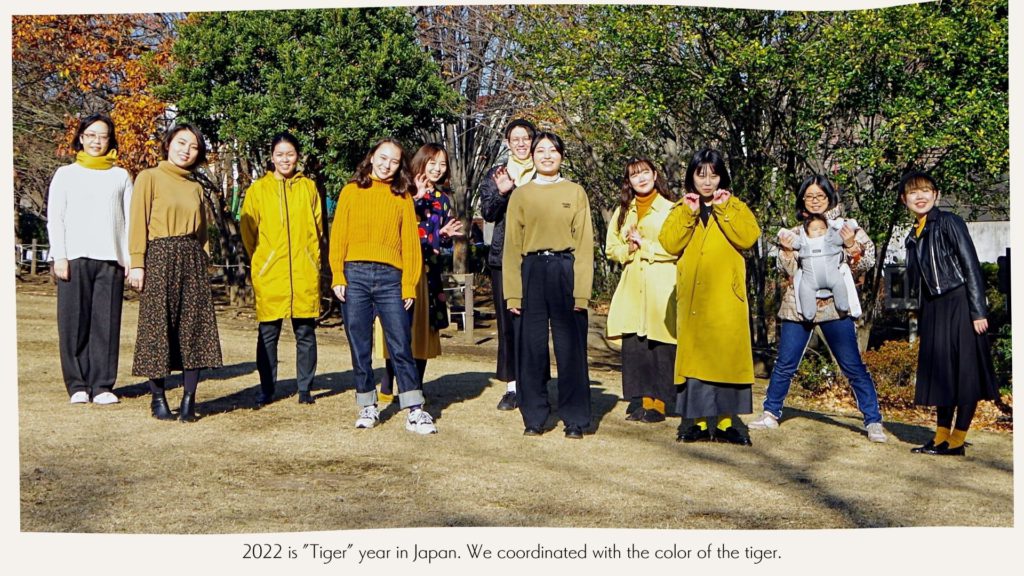 The year 2021 began with record-high numbers of Covid-19 cases in Tokyo. It was a year in which we managed to remain in action with a positive attitude while accumulating know-how for living with Covid, thanks to the assistance and cooperation of all concerned.
In February 2021, we launched the online THEATRE for ALL upon thorough preparation. This platform now has more than 80 titles of works in genres including not only performing arts but also movies and media arts. All of these titles can be enjoyed with information assured by options such as multilingual subtitles, sign language, and voice guides. THEATRE for ALL was even selected for the 2021 Good Design Award.
In the THEATRE for ALL Learning project, which we have been further developing, we held workshops for children that brought them into direct contact with artistic expression. We also conducted the workshop "Miru Miru Seeing Tour – Workshop to listen to and talk about videos –" for dialogue with a visually impaired facilitator while appreciating works, and another titled "Philosophy Time – a place for dialogue to enjoy moyamoya –," which incorporated the technique of philosophical dialogue. These workshops attracted a large number of participants.
We continue to hold the THEATRE for ALL Facilitator School to impart the mindset and knowledge needed to run dialogue-oriented workshops.
We must also mention two workshops held in cooperation with Mori Art Museum: as part of "Meet the Artists"Workshop Yamamoto Takayuki's "Ichthys", and the community engagement program by Tomohiko Tsujimoto and Koharu Sugawara titled "Art Camp for Under 22, Vol. 7 Human Begin: What Are We Doing Tomorrow?" The latter was directed to children and young adults.
chelfitsch / Toshiki Okada & Teppei Kaneuji "Eraser Mountain" 2021 Autumn Tour in Vienna and Paris had the Europe premiere, finally, after about a year and a half extended. Although the barriers to traveling overseas in the pandemic were extremely high, these long-awaited initial European performances were realized out of strong desires to show the work to audiences there. "Eraser Mountain" was roundly applauded in both Vienna and Paris.
Under the influence of Covid, the Theater Company Q by ICHIHARA Satoko -"The Question of Faeries," "Jejak- 旅 Tabi Exchange: Wandering Asian Contemporary Performance NAHA 2021 @ONLINE" were both held online because of the pandemic. Because all concerned tried various things in consideration of the situation in each country, they turned out to be events that revealed new online approaches in international exchange.
We likewise had numerous opportunities to take barrier-free measures in performances, events, and online distribution, and also took part in "True Colors FASHION – Diversity fashion show that brings diversity to the future," directed by Yoichi Ochiai, and the Japan, China, Korea Art Festival 2021 in Kitakyushu. These programs too gave us glimpses of the new possibilities opened up by online distribution.
We held the program True Colors DIALOGUE – Mammalian Diving Reflex / Darren O'Donnel "All the Sex I've Ever Had" toward the goal of performances that are more accessible to more people, thanks to information assurance through English & sign language interpretation and audio guides, as well as seating design and escorting at the venue. The program also succeeded in what was the first attempt to have overseas artists unable to come to Japan because of the pandemic appear in the work through online means.
The drive-in theater Film Festival "A film festival with everyone" represented another attempt of ours to provide occasions for enjoyment by all. The festival was held at the Green, a commercial facility in Chiba Prefecture. Going forward, we are determined to push ahead in our efforts to help heighten art accessibility for all.
We are getting increasing opportunities related to commissions from governmental/public agencies and various groups. For example, we participated in the publicity team for Tokyo Festival 2021, ran the secretariat for a project aimed at supporting the diffusion of artistic and cultural activities among the disabled by the Ministry of Health, Labour, and Welfare, and were involved in the PR and executive secretariat for the Creative Well Project and a program titled "Cultural Future Camp: Co-creating New Cultural Experiences through Inclusive Design," both conducted by the Tokyo Metropolitan Foundation for History and Culture.
Staged as it gradually became possible to hold performances with audiences present, Five-Minute Walk from Billie Eilish Hot Springs Station, Higashi Kujo, Shinjuku-ku, Mie Prefecture, by Midori Kurata and Norimizu Ameya, won praise for its presentation in Kyoto. Footage of the presentation and the newly produced video work based on a re-edited video of the performance are available for viewing online, at the STAGE BEYOND BORDERS
–Selection of Japanese Performances– website of the Japan Foundation. In the future as well, we hope to present works while exploring various methodologies combining real and online formats.
The play "Unfulfilled Ghost and Monster – ZAHA / TSURUGA" – directed by Toshiki Okada, for which we handled the management chores, had highly successful showings in Yokohama, Toyohashi, and Hyogo after a one-year postponement. The ensuing performance of Okada's Ikuma Dan Opera "YUZURU", a national co-produced opera, opened up a new frontier. Okada is making preparations for staging "Doughnuts", another new play, at Thalia Theater in Hamburg in January 2022, after taking part in the project of Bertolt Brecht Gastprofessur at Leipzig University.
In 2021, the members of precog's staff each performed their duties through telework. This coming year, we are expecting an increase in opportunities for real face-to-face meetings in person. We are eagerly awaiting the day when we can actually meet and shake hands with all the people working with us.
Activities at precog are not confined to artistic genres such as theater, dance, film, and fashion; we are also engaged in interdisciplinary activities that combine the arts with welfare and educational services. Furthermore, we bridge the arts and culture with society and the world while making the most of our record of activities that cross national borders to link Japan with other countries. In this bridging role, we are committed to energetic efforts for delivery of cultural activity to many people in 2022, too.
With the beauty and power of a tiger, we are going to do all we can to meet the expectations of all concerned in 2022 through more finely tuned action. We are counting on your support again in the coming year!
From all of us at precog co., LTD.
Our office will resume operations on January 6 (Tue.), 2022.
2022 Schedule
Performances / events
◉Midori Kurata & Norimizu Ameya New creation
– Five-Minute walk from YouTube Hot Springs Station, Higashi Kujo, Shinjuku-ku, Mie Prefecture
Video production – the Japan Foundation STAGE BEYOND BORDERS –Selection of Japanese Performances–
Presented by The Japan Foundation (JF)
– Five-Minute Walk from Billie Eilish Hot Springs Station, Higashi Kujo, Shinjuku-ku, Mie Prefecture
Delivery beginning in January
◉Directed by Toshiki Okada, Thalia Theater New repertry "Doughnuts"
Thalia Theater / Hamburg, Germany
World Premiere: Friday, January 21
◉Directed by Toshiki Okada,
Ikuma Dan Opera "YUZURU"
– Kariya Cultural Center / Kariya, Aichi
Sunday, January 30
– Kumamoto Prefectural Theater / Kumamoto
Saturday, February 5
◉Cultural Future Camp:CO-CREATING NEW CULTURAL EXPERIENCES THROUGH INCLUSIVE
– Open lecture vol.3
Saturday, January 29 10:00~12:00
– Short intensive Workshop
Thursday, February 17 ~ Sunday, February 20
*Application deadline: Wednesday, January 12
◉"VIRTUAL NIPPON COLOSSEUM"
Supported by the Agency for Cultural Affairs Government of Japan in the fiscal 2021
Delivery beginning on THEATRE for ALL in the spring
◉THEATRE for ALL Laboratory for Building Theaters
Delivery beginning in February.
◉chelfitsch & Dai Fujikura with Klangforum Wien Work-In-Progress for Music Theatre Production
Archive streaming beginning on THEATRE for ALL in February. (tentative)
Presented by The Japan Foundation
◉KAISOU: Layer, Class or Hierarchy by the method of chelfitsch's EIZO-Theater
Toyohashi Arts Theatre PLAT / Toyohashi, Aichi
Thursday, March 3〜 Sunday, March 6
◉Mark Teh New Production
Delivery beginning on THEATRE for ALL in the spring.
◉New Cultural Project at a town Ikegami (Ota, Tokyo)
March ~ (tentative)
◉chelfitsch / Toshiki Okada workshop conducted in Japanese with people whose native language is not Japanese
April ~ July(tentative)
◉Directed by Toshiki Okada
"I am a Battlefield of Narratives" (Saitama Arts Theater / Saitama)
September(tentative)
Now distributing precog-related works online!
◉THEATRE for ALL
◯A film festival with everyone
– Reframe Lab "Morumetamo"
– Makoto Sato "Hanako"
– Makoto Sato "Noon Star"
– Mari Miyazawa "Waltz" and more
◯chelfitsch "Time's Journey Through a Room"
◯chelfitsch "Five Days in March" Re-creation
◯The Enemy
*Limited-time only release 24/12/2021~7/1/2022
◯Directed by Shun Nakagawa "Kalanchoe flowers"
◯Directed by Kosai Sekine "Tower of the Sun"
◯chelfitsch x Teppei Kaneuji "Eraser Mountain" streaming ver. "Eraser Mountain is watching"
◯chelfitsch & Teppei Kaneuji "Eraser Forest"
◉@ONLINE
◯Jejak- 旅 Tabi Exchange: Wandering Asian Contemporary Performance 2021 NAHA @ONLINE
◯chelfitsch & Teppei Kaneuji "Eraser Fields"
◯chelfitsch × Otagiri × Kouki Tange "OUTRAP (A scenario that is inevitably musical, narrative, and yet incandescently robust)"
viewing fee 1,000yen tax included
Space
Rental rehearsal studio in Tokyo. You can do rehearsal, lesson, party, motion video distribution and so on! We are looking forward to see you.
Rental free space in Beppu(Oita). It is a small space that you can challenge a new shop! Would you like to try it?